An overview of materials in the Map & Documents room
Map
Number: approximately 48,000 sheets
Gaihouzu maps
The Gaihouzu collection consists of approximately 20,000 sheets of maps, making the Map & Documents room one of the leading map rooms in Japan for collecting a number of the Gaihouzu maps in one place. The maps were produced, reprinted, and edited before World War II by the former Japanese Imperial Army General Staff Office, Land Survey Department, and the Japanese Navy Hydrographic Department. In this room, the maps are classified and stored by regions.
Soviet Army topographic maps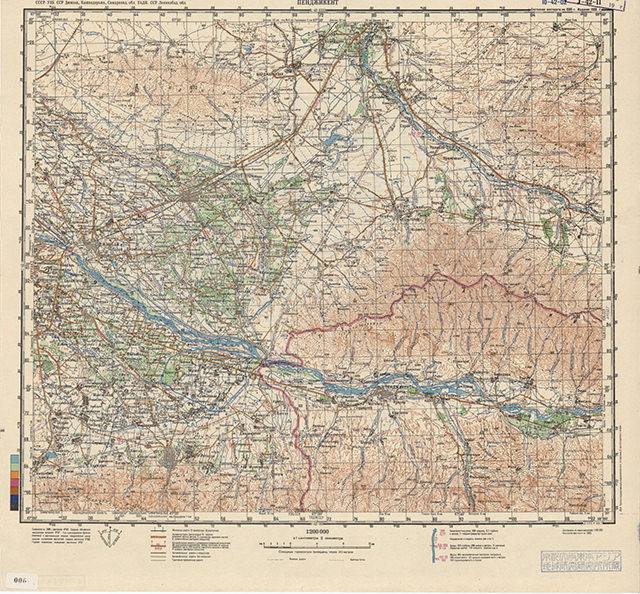 The Soviet Army topographic mapping of the world is a map collection produced by the Military Topographic Administration under the Soviet Army General Staff office, in cooperation with the Chief Administration of Geodesy and Cartography, an organization responsible for all mapping of USSR. It is a collection of maps that became available in the market after the dissolution of the USSR in 1991. It consists of approximately 3,000 sheets of 1:200,000 scale maps covering the areas of Russia, Kazakhstan, Kyrgyzstan, Tajikistan, Uzbekistan, Turkmenistan, Afghanistan, Iran, Turkey, Iraq, Syria, Jordan, Lebanon, Israel, Saudi Arabia, Kuwait, Qatar (Bahrain), United Arab Emirates, Oman, and Yemen.
General maps
Apart from the Gaihouzu and Soviet Army topographic collections, the Map & Document room holds approximately 25,000 sheets of geographic, topographic, geological maps, land use, vegetation, political, and road maps.
Wall maps
The wall map collection consists of 50 sheets of topographic, mineral resources, and vegetation maps covering the areas of Southeast Asia, Japan, Manchuria, and the Korean Peninsula. Approximately half of the collection are maps transferred from the former agroforestry geology laboratory (Faculty of Science, Kyoto University).
Aerial photographs
There are approximately 10,000 aerial photographs in the Map &Documents room. It consists of the Williams-Hunt Collection, aerial pictures of Japan (1974-1978) produced by the Geospatial Information Authority of Japan, and aerial photographs of Laos and Indonesia.
【Williams-Hunt Collection】
This collection consists of aerial photographs taken and collected by Peter Williams-Hunt during and after World War II. After that, it was organized by Dr. Elizabeth Moore at the School of Oriental and African Studies (SOAS), University of London. The collection mainly covers Cambodia (Angkor Wat), Thailand, Myanmar, Malaysia, and Singapore. CSEAS holds 4,974 sheets (from 5,800 sheets) of the group. Since 2012, the aerial photographs in this collection have been available in digital form.
The digital archive of this collection is available online at the website of "Geospatial Digital Archive Project," developed by Dr. Surat LERTLUM from Chulachomklao Royal Military Academy (Thailand), in collaboration with CSEAS (Kyoto University), SOAS (University of London), and UNINET (Thailand).
Human Ecology Files
This is a set of materials on human ecology, collected and sorted into 5,600 files by Professor Terry Rambo at East-West Center, Hawaii. It includes various materials like abstracts of academic conferences, clippings from magazines, research articles, periodical, and non-periodical publications, etc. It is difficult to collect, hold or browse these materials in a library. They were transferred to CSEAS in 2000. In later years, the files on Agro-forestry and Watersheds were added to the original materials, and the number increased to 8,400 files in total. They are collectively called the "Human Ecology Files." For the Human Ecology Files details, see the Excel files below.
Human Ecology Files 2009
Excel 2009(1.77MB)
List of materials
Materials
Digital data
Map
General maps
△
Gaihouzu maps
△
Soviet Army topographic maps
◯
Wall maps
✕
Aerial photograph
Williams-Hunt Collection
◯
Aerial photograph
✕
Human Ecology files
✕
○=Fully available in digital form
△=Partly available in digital form
✕=No digital form available